Time for your MOT
This year's Men's Health Week runs 13-19 June and encapsulates Father's Day, and for this year it focusses on men getting an MOT. Not the type where you roll up to the local garage, but something that will inspire men to get back to some degree of normality post-Covid. Having been focused on the pandemic, as with everyone, it's likely other serious conditions have been somewhat overlooked, or even ignored. That's why Men's Health Week is trying to get men to have a Man MOT.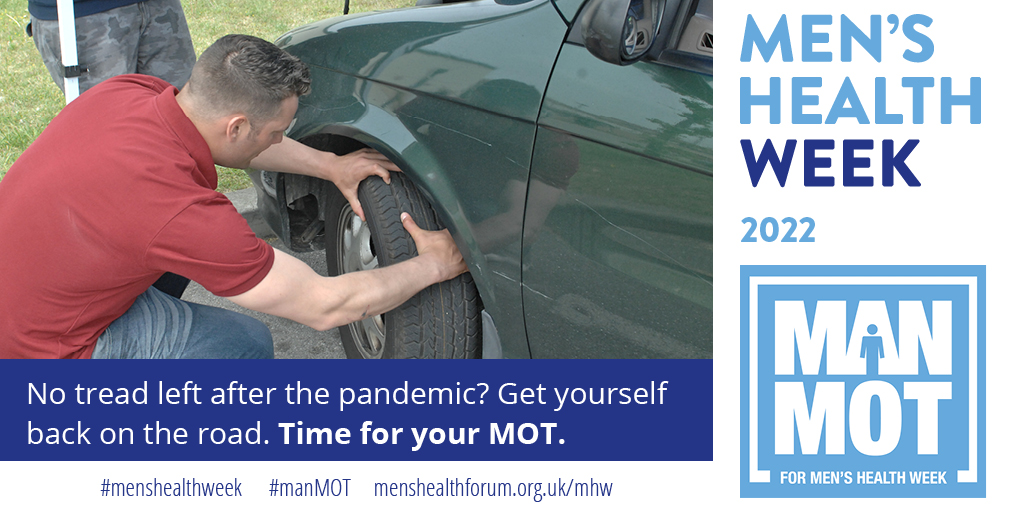 It's clear that cancer diagnoses have fallen during the pandemic and continue to do so. And with GP visits having fallen more than female visits during this time, we really should see them increasing – but they're not. Coupled with NHS health checks that were paused for the over 40's during the pandemic, gives us even more reason to make sure we literally give ourselves an MOT.
Part of my role in all this naturally falls into the mental health side of it. As well as your physical health, the one overlooked area is our mind. Making sure you're getting a decent night's sleep, handling pressure at work or even just getting out of the house for an hour are all part's of our lives we should and could be managing. So if you're struggling please get in touch here, or if you just need some helpful advice check out the Man MOT and also the Man MOT for the mind.
The message to men
It's a simple one: it's time for your MOT!
Take notice of what's going on in your body and mind.
Do the Forum's quick and easy DIY Man MOT
Get yourself a copy of The CAN DO Manual, a FREE download PDF collecting together all the great ideas that Men's Health Champions have had for things we can all do to boost your mental wellbeing.
Dig a bit deeper with our existing Man MOT manuals: Man MOT and Man MOT for the Mind.
Get an NHS Health Check
Go and see your GP or use NHS 111 if you're concerned about any symptoms
Please share and spread wide folks, it may well end up helping someone who needs just a nudge to get checked.