Let me introduce myself – Hi I'm Neil Cox
As a client-centred therapist, my belief is in helping people to help themselves. This is achieved by tailoring therapy to their needs and requirement. "I also ensure this is done over the shortest possible period of time that is appropriate to resolve the issues presented."
It's important to me that you are more able to manage your life and your thoughts to create positive change. And I believe that everybody has the potential to be calm, capable and content. I aim to bring this out in all my clients.
Please explore the other pages on my website to find out more about how I can work with you to help you move past your problems. You can also connect with me on Facebook here.
Training
Over many years I trained and qualified in reflexology, massage therapy and reiki healing. All therapies which in their own right were effective, but I always felt there was something missing.
Finally, after a significant issue suffering with pain, it led me to train and qualify as a solution focused hypnotherapist. The Hypnotherapy Practitioner Diploma I obtained meets the 'Learning Outcomes' of the Hypnotherapy National Occupational Standards. Full details of accreditation. Although my training at CPHT was considered the most practical course in the country, that's not all. They encouraged students to start practising from the first two days of the course onwards. Once qualified I was more than ready to go into successful practice.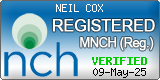 Research
The training involved a great deal of research and also neuroscience. In combination with Solution Focused techniques, Brain based therapy, CBT and NLP along with common-sense and experience. The very high standard of training ensures that a graduate like myself is able to help. Be that in the clinical or medical areas of depression or anxiety.
Hypnotherapy in Bude, North Cornwall
From this I have managed to set up a thriving practice delivering hypnotherapy in Bude, on the North Cornwall & Devon border. I'm located in Bude near the border of North Cornwall and North Devon. Despite what some people would describe as somewhat isolated and out on a limb, I frequently receive clients from far afield all the way from Penzance to Plymouth.
I'm within easy reach of Camelford, Hartland, Holsworthy, Kilkhampton, Launceston.
I'm a member of the Association for Solution Focused Hypnotherapy (AfSFH), and the National Council of Hypnotherapy (NCH).
Neil Cox MNCH (Reg.) HPD